Smile, eat and speak with confidence again; the optimum treatment for tooth loss
Dental implants offer patients an attractive, strong and undetectable solution for missing teeth and are often the ideal choice for creating a natural and confident smile.
Since having the treatment life has been so much better; I feel happier! My teeth are amazing, they give me no trouble whatsoever and I can smile. I felt looked after every step of the way.

Kate, implant patient
Built to last and designed to look as natural as possible, dental implants can replace a single lost tooth or multiple missing teeth. They can also be used to hold dentures in place, offering a more stable hold than traditional denture adhesive.
How does it work?
In simple terms, a dental implant is a small titanium screw that is surgically inserted into the jawbone where a tooth (or teeth) have been lost or extracted. Following a brief healing period, an abutment (or connector) is fitted on top of the implant to hold the prosthetic tooth or teeth (either a bridge or crown) in place.
The bridge or crown will look and feel completely natural and will be colour-matched to your teeth, so no one need ever know that you have had any dental treatment.
Dental implants provide a firm and long-lasting foundation for prosthetic teeth and are the most popular solution for missing teeth.
Your dentist will explain the dental implant process fully and is happy to answer any questions you may have.
The Treatment
First, we will need to create a treatment plan and ensure dental implants are the right option. Your dentist may need to assess the quality of your jawbone to see if it is suitable for the treatment. This may involve a Cone Beam CT (CBCT) scan which gives a 3D image of your jaw, soft tissue and nerves.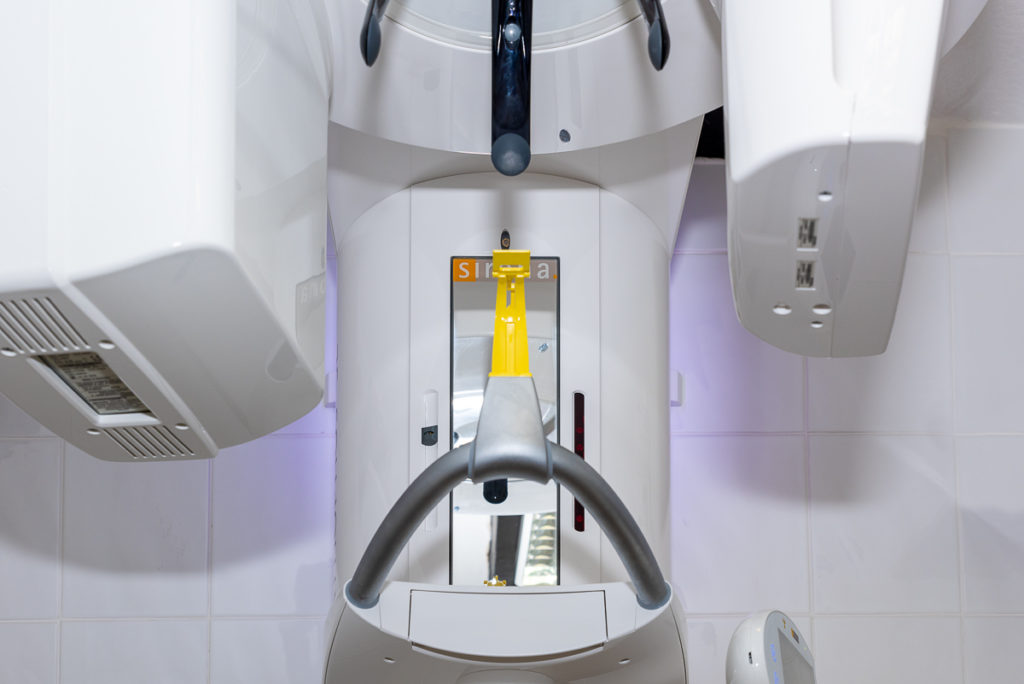 Where a patient's jawbone does not appear to be able to support a dental implant, our advanced dental team can offer bone grafting procedures to enhance the volume and quality of the bone. These treatments are:
Guided Bone Regeneration (GBR) – a quick and simple procedure, where artificial bone and membrane products are used to augment the bone at the implant site and act as a template to aid bone formation in the required area
Sinus Lift/Bone Graft – where there is insufficient bone present in the posterior region of your upper jaw, then it may be possible to create more bone volume using a sinus lift/bone graft procedure
After implant placement surgery, there is a healing period of between eight to 12 weeks to allow the implant to integrate with the bone. Whilst your mouth heals, you will be provided with a temporary denture, crown or bridge.
The final stages of treatment involve construction and fitting of the permanent bridge, crown or denture. Your smile and dental function will then quickly return to normal and we will support you to maintain a positive oral care routine to look after your dental implant. We will also book in yearly examinations to ensure the implant and its structures are functioning and positioned as they should be.
Book a dental implants consultation
Digital Dentistry
Our investment into the latest dental technology will ensure your dental implant journey is as comfortable and convenient as possible.
We offer in house CBCT scanning which captures 3D images of your jawbone and surrounding tissue.
Additionally, when it is time to build the crown or bridge that is attached to the dental implant, we can manufacture this within the practice with our Cerec 3D technology.
The intraoral scanner we use does away with the need for impressions to be taken and instead transmits information to the Cerec 3D software. We can then build your replacement tooth (or teeth) whilst you wait and fit it (or them) on the same day.
We have invested in digital dental technology to ensure our patients receive the highest quality of care and so that we can reduce treatment and waiting times.
Find out more about Digital Dentistry & Dental Implants
Benefits of Dental Implants
For patients who have lost single or multiple teeth, the advantages of dental implants can be truly life changing. Benefits include:
Look and feel natural
Proven success and longevity
Great solution for adult patients of all ages
Minimally invasive procedure
Reduce the risk of dentures moving around or feeling loose in the mouth
Restores confidence when eating and speaking
Replenishes any gaps in the smile
Impossible to detect as they look like natural teeth
Do you have a single missing tooth
We accept referrals from other dental professionals
As one of the leading dental practices in the local area providing dental implant treatment, we accept referrals from dentists and other healthcare professionals. Please contact us through our online referral system.
Make a referral