We use Primescan /Cerec, a system which allows you to have a crown, bridge, inlay or onlay and even veneers built and fitted in just one appointment.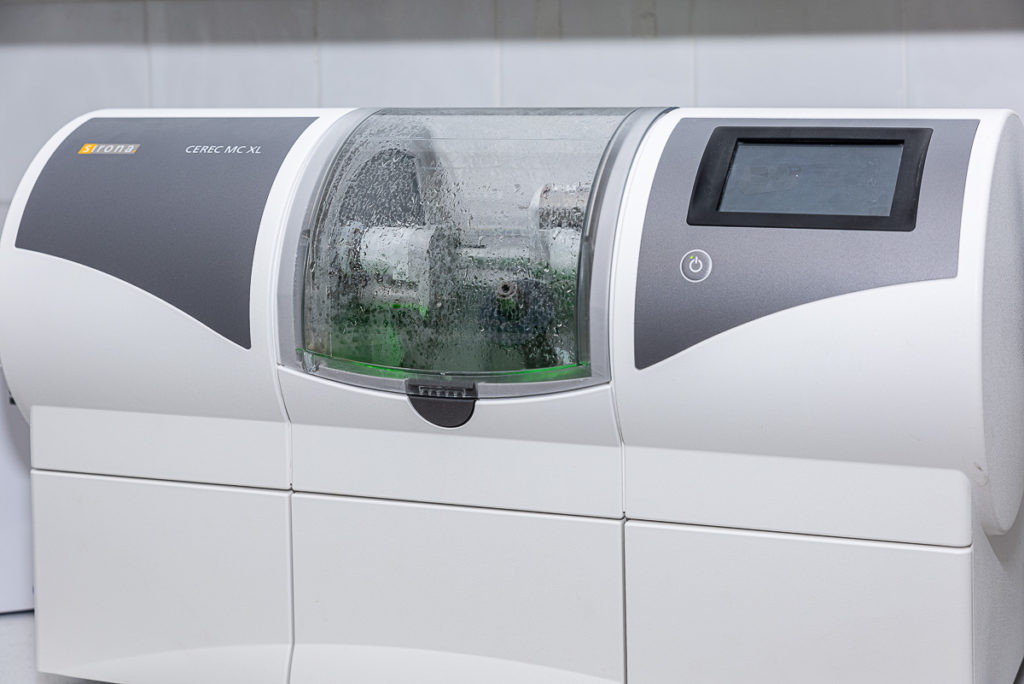 Traditionally, if you needed any one of these dental restorations, it could take at least two to three appointments until your treatment was completed. With Primescan, your examination and treatment all take place on the same day within the practice, eliminating lengthy waits and the need for temporary restorations.
How does the Cerec 3D system work?
Instead of taking a dental impression, we use intraoral scanners. This is a 3D scan of your mouth and the affected teeth which is immediately transmitted to the Cerec software.
Known as computer aided design and manufacture (CAD/CAM), the software will design the required restoration and a milling machine will then cut the crown, bridge, inlay or onlay from a ceramic block. Once ready, the dentist will stain the restoration to match your natural teeth.
Within an hour, your dental restoration is ready to be fitted and you are ready to get on with your day.
Crown in one visit- Patient story
I had to have a crown replaced because there was a gap between them. I came in, expecting to have a temporary one put on, then come in two weeks later. I sat in the chair; he took the crown off. It took 15 – 20 mintues…I didn't feel a thing. And he said "Have you got time for a cup of coffee Anne, maybe for 20 minutes?" I said "Yes". And he said "Ok, your crown will be ready when you come back" There it was…wow! It fitted in, colour perfection. I can't tell you…it was wonderful.

Anne, Crown in one visit patient
Benefits of Digital Dentistry
Our ethos at Dutch Barton Dental Practice is to 'do it once and do it right'. That is why our use of digital technology is essential to our daily work and to ensure that our patients always receive the highest level of care.
Advantages of digital dentistry include:
Some treatments can be achieved in just one visit (from as little as 90 minutes)
Reduced waiting times
Minimally invasive
Treatment completed in one day – no need for a second appointment
Scans and x-rays performed by dentists you know
Consistent care from our team
Less stress and hassle for nervous or busy patients
No need for temporary crowns or bridges
Treatment without impressions
Reduced impact on the environment
Using Digital Dentistry to Reduce Our Environmental Impact
We have a strong desire to reduce our carbon footprint here at the practice, which drives us to do as much as we can to reduce our impact on the environment.
We achieve this through using digital technologies which allow us to reduce the amount of dental materials we use in the practice which would end up in landfill. The technology allows us to give our patients the very best care and outcome, and where possible complete their treatment in one visit, so there is not need to return another day. This means we can help our patients to also reduce their environmental impact as fewer appointments are required.
If you would like to experience the digital dental journey, please arrange an appointment with one of our team. We are committed to making your dental treatment as stress-free as possible.